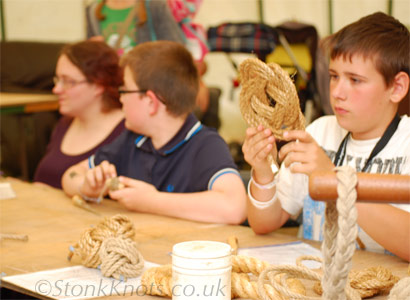 Knotting Workshops
Stonk Knots interactive knotting and rope craft workshops always attract a lot of interest and provide opportunities to learn new skills, experiment and have fun.
From learning basic useful knots such as the Constrictor or the Bowline to weaving a Turk's Head into a table mat or putting an eyesplice in the end of a rope; from making colourful macramé bracelets to unravelling the mysteries of the Monkey's Fist...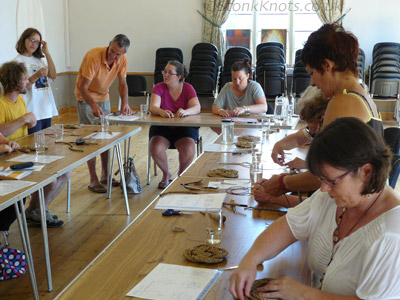 Interactive and participatory
Knot tying skills are developed through "fingers-on" participation, using a variety of natural fibre and coloured ropes and cords - and at the end of the session, students can take their handiwork home.
We are available to run workshops, demonstrations and exhibitions throughout the year at festivals, arts centres, community events and private functions - for more details please contact us or see the bookings section below.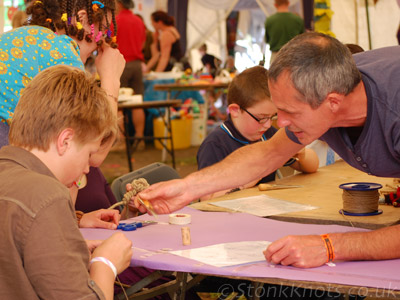 Activities
Our knotting workshops cover a variety of projects using both practical and decorative knotting techniques.
Our sessions can be tailored to suit different abilities and environments; we offer a flexible programme of tuition that can be structured around interest-led topics or focused on a particular theme. Below are some projects we currently cover in our sessions.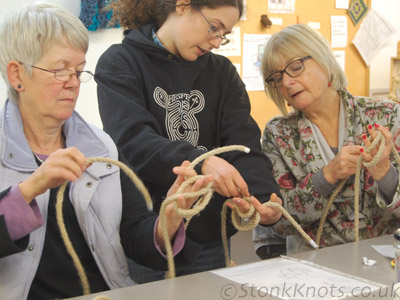 The Monkey's Fist
Make rope dolls, key rings or simply the knot itself. Formed on the hand, the Monkey Fist is a ball-shaped knot made up of three concentric circles, traditionally used by sailors to throw a heaving line. We use 8mm hemp cord to make the Monkeys Fist, which is soft and pleasant to work with. At many of our workshops we also make clothes for the rope people, who develop their own individual characters... sewing, knitting and wool-winding all "tie in" to the theme of the workshop.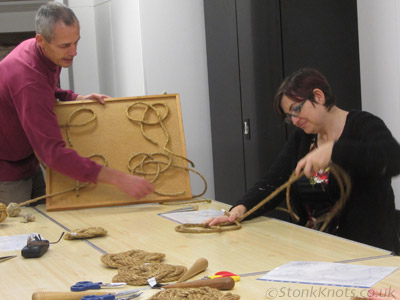 The Turk's Head
A versatile knot that can be made in many different sizes and shapes, the Turks Head is a decorative weave technique. In our sessions we make table mats (traditionally "thump mats", a mat tied around a deck-mounted pulley block to protect the wood when the block lost tension and 'thumped' down on the deck) and baskets from simple Turk's Heads in 8mm manila cord, and small "floating keyrings" formed around a cork from 2mm hemp cord.
Macramé bracelets
Made from brightly coloured 2mm cotton cord, we teach a variety of macramé techniques for making bracelets, anklets, keychains, zip toggles... the list is endless! Always popular, these projects have something to suit every ability - from the simple half-hitch sennit (below left) to the more challenging Double Carrick Bend Sennet (below right).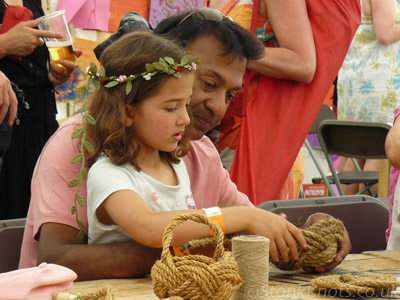 Versatile skills
Activities cover both practical and decorative techniques and it is not uncommon for your project to incorporate everything from the most basic of overhand knots to a complex decorative weave technique!
Our knotting workshops are suitable for all ages, although children under 8 are likely to need assistance from a parent/guardian.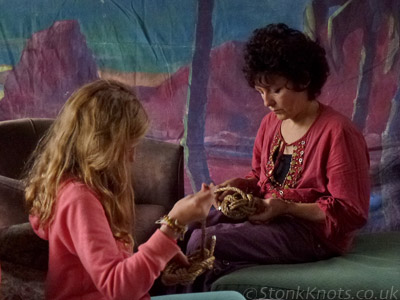 A far-reaching interest
Our accompanying display features examples of finished rope work, tools of the trade and a selection of books and pamphlets to browse, and there is always a chance to share and discuss knowledge of the subject.
We can set up basic frameworks of the more complicated knots to work on at home and provide a range of leaflets with instructions, ideas for follow-up projects and links to further reading and resources.
An ancient craft
The use of knots and ropes is among the oldest documented skills practiced by humans. Often overlooked, it forms the basis for countless related crafts (weaving, macramé etc.), and extends to many fields of work; besides fishing and boating, knot use and theory crosses over to engineering, mathematics, climbing, surgery, archaeology and many others.
Even in this age of readily available tape, clips, velcro and cable ties, rope remains the most versatile and simplest of materials - and the key to using it effectively lies in the skill of knotting.
Bookings
Stonk Knots run knotting workshops and demonstrations at festivals, craft exhibitions and community events.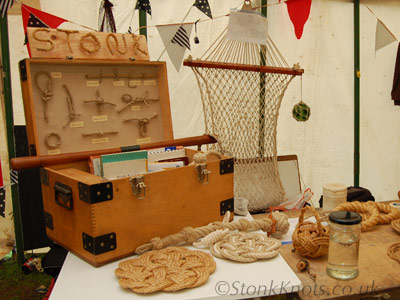 If you would like to arrange a knotting and rope craft workshop, demonstration or display for your venue or event, please contact us to discuss details and pricing.
Our workshop team is led by James Watson from Stonk Knots and StairRopes.com. You can see examples of his work, and learn more about ropes and knots in general, on the Working with ropes page.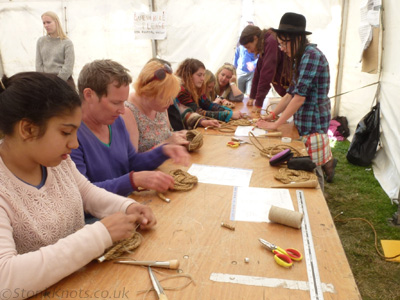 Drop-in sessions
We typically run drop-in sessions at festivals, events and community clubs. These run for 2-3 hours each, focus on one project at a time, and can accomodate between 10 and 15 participants at a time depending on the size of the venue. Projects take between 20 and 45 minutes to complete (sometimes over an hour for rope dolls with clothing).
Our drop-in sessions at festivals are often very busy, so we advise participants to turn up near the beginning of the session to avoid disappointment.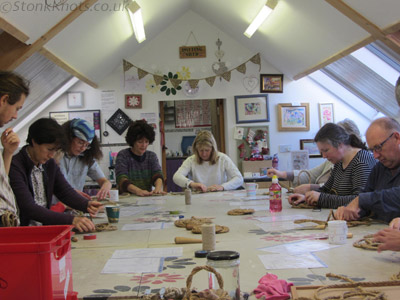 Day workshops
We run longer day workshops at arts and craft centres and venues. These are usually centred on one or two knotting techniques, with a focus on exploring more types and applications of these knots than is possible in a drop-in session.
Day workshops tend to be quite self-directed. The relaxed environment gives participants the chance to explore different aspects of the technique according to their own interests, and while we provide a structure there is plenty of room within that for questions, creativity and consultation.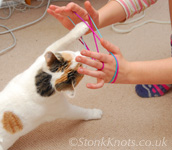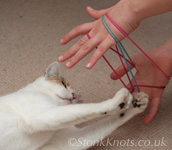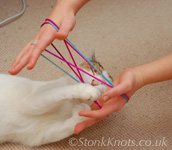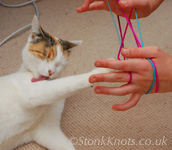 >> Top <<