StonK KnotS
combine traditional knotting technique and expertise with contemporary ideas to produce rope accessories for the home, garden or boat.
Our emphasis is on sourcing top quality materials: high grade natural plant fibre ropes - hemp, cotton, flax and manila, and some of the best quality synthetic ropes available, such as spun polyester.
StonK KnotS
offer a range of original, individually made rope products available to order.
We specialise in a taylor-made service. Our projects include commissioned work, bespoke rope design solutions and a gallery exhibition. We also organise demonstrations and knotting workshops at events throughout the U.K.
The palindrome "Stonk Knots" reflects the backwards-forwards, do-undo essence of knot tying.
High spec ropes, cords and twines are skilfully knotted, spliced and netted by hand, incorporating many of the traditional sailor's knots and whippings such as the Monkey Fist, the Manrope Knot and the Turks Head Weave.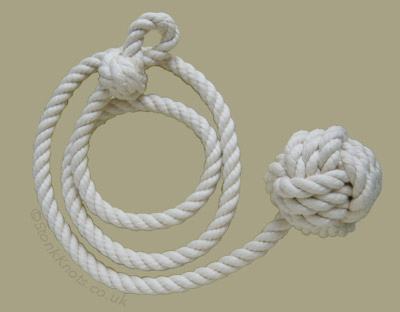 Stonk Knots began trading in Cornwall, South West England in 1994, selling and exhibiting original and decorative rope-work through local outlets, via trade fairs and at shows nationwide.
In 2004, Stairropes.com was launched to fulfill a growing demand for stair ropes, barrier ropes and hand rails, followed in 2006 by our Stonk Knots website - these are now our primary shop windows and points of liaison.
With over twenty years of experience and an extensive knowledge of ropes and practical knotwork, we have built up a reputation for distinctive high quality design and reliable service.
Our aim has been to keep the business small and accessible by retaining control of the creation and manufacture of all our products. We know that our customers like to deal with us because of our personal and straightforward approach; many of them appreciate being able to discuss their requirements with someone who really does know the ropes!
On our Working with ropes page, you can read about the materials and tools that are used, see images of the rope-working process and look at some examples of knots and how they are tied. Visit our gallery to view fancy knotwork, rope projects and ideas, and in-situ images of commissions fulfilled over the years. We also organise knotting and ropecraft demonstrations and workshops at many festivals and events during the summer months, and exhibit throughout the country.